I'm just sayin'
Before some notes and thoughts about high school sports, first a little personal note. Some people in the high school circles have asked the past few months about Post-Gazette colleague Rich Emert. I'm happy to report that Rich is improving and is talking about wanting to come back to work in the future.
I mentioned in the spring to keep Rich in your thoughts and prayers because of some health issues. Well, Rich had a stroke in April and has been in hospitals ever since. But he has progressed and is hopeful of leaving Mercy Hospital in the next few weeks. He is still going through rehab and therapy and I was able to visit Rich Wednesday. His spirits are good and, wouldn't you know it, we talked a lot about high school sports.
If you don't know Rich, he is part of high school sports in this area. He has covered WPIAL and City League athletics at the Beaver County Times, Pittsburgh Press and Post-Gazette for decades. I think I speak for a many when saying we miss you, Rich â€" especially that cross-country and track community. Rich loves running, loves covering running events and was actually training for the Pittsburgh Marathon when he suffered the stroke. Get well, Rich.
If you'd like to send Rich a note or get well card, send to: 196 Beaver St., New Brighton, PA 15066.

About this and that
***** Some news on the girls basketball recruiting front. A WPIAL player has made an early verbal commitment. Real early.
Cassidy Walsh of Seton-LaSalle is only a sophomore, but has accepted a scholarship to Duquesne University.
Duquesne coach Suzie McConnell-Serio has turned around the Duquesne program, coming close to getting into the NCAA tournament. A number of Duquesne's players are from the WPIAL and Walsh said today that she saw no reason to wait to make a decision. She visited Duquesne this week.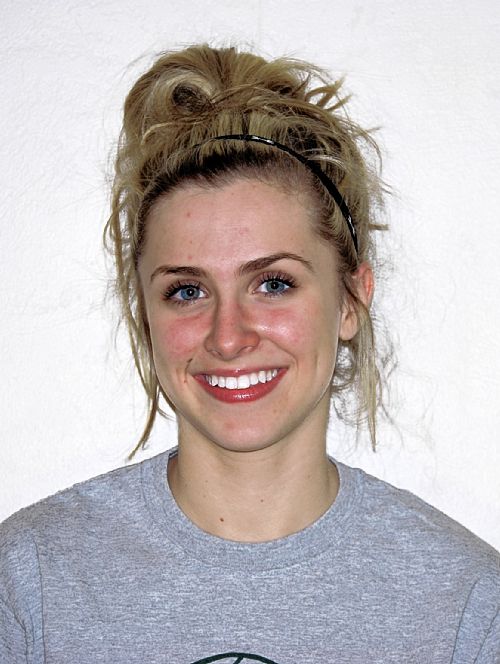 Walsh (pictured) was the starting point guard for Seton-LaSalle as a freshman on a team that finished with a perfect record. She is one of the best sophomores in the WPIAL and played last year with a maturity beyond her age. It's a nice catch by McConnell-Serio.
Is McConnell-Serio taking a chance offering a sophomore a scholarship? Well, you have to think McConnell-Serio is pretty sure about Walsh's talents because McConnell-Serio had to see her play often. Walsh is on the same AAU team as McConnell-Serio's daughter, Jordan, who is a sophomore at Upper St. Clair. The team is coached by legendary former Blackhawk boys coach, John Miller. Walsh said the team finished third at AAU nationals this summer.
Walsh isn't the only Seton-LaSalle player headed to Duquesne. Senior guard Angela Heintz committed to the Dukes during her junior year. On top of that, McConnell-Serio also has a commitment from Erin Waskowiak, a standout senior guard at Bishop Canevin.
I'll have a little more on Walsh in tomorrow's Post-Gazette.

**** Doesn't it seem like WPIAL Class AAAA football this season is North Allegheny, Gateway and everyone else. North Allegheny and Gateway seem a level above everyone entering the season. But that could easily change. You can bet a few other teams will turn into serious contenders t by the end of the season.
A few teams to watch in Class AAAA that aren't ranked in the top 3, but could make some noise: Definitely Seneca Valley, and then North Hills. And some team from the South Hills area could emerge as a pretty good team. Maybe Mt. Lebanon, or Bethel Park.

**** OK, I'm waiting for some WPIAL football team to come up with a good "Call Me Maybe" video on YouTube. So many other sports teams at all levels have done it. I have to admit, that song is still pretty catchy.

**** The Post-Gazette state rankings came out last Friday. The Harrisburg Patriot-News state rankings came out Wednesday. It was a little surprising to see Gateway ahead of North Allegheny in the Patriot-News state rankings. Just about every media outlet locally has North Allegheny No. 1.
**** Shatori Walker-Kimbrough, the all-everything athlete at Hopewell, had been thinking about not playing volleyball this fall. But Walker-Kimbrough (pictured) is back playing for the Vikings. She had Division I colleges interested in her for volleyball, but Walker-Kimbrough's top sport is most certainly basketball now. In case you missed it, she made a verbal commitment to the University of Maryland womens basketball team earlier this summer.

**** West Mifflin's nickname is Titans, but the  "Viking" is back at West Mifflin.
West Mifflin will hold a dedication ceremony at halftime of tomorrow night's game for the "Viking" statue that will now be in front of the school's stadium. West Mifflin used to have two schools â€" West Mifflin North and West Mifflin South â€" before they merged. West Mifflin North's mascot was a "Viking" and there was an old "Viking" statue that West Mifflin North had. Some individuals renovated the statue this summer and it will now be at West Mifflin's stadium forever.

**** Hey, just a "Varsity Blog" program note. I'll have the live blog going on Friday nights, starting with tomorrow's Woodland Hills at Upper St. Clair game. Besides giving you some notes and thoughts on that game, I'd like to give you as many updates as possible on other games. If you're at a game, send me a score update or note through "Twitter" @mwhiteburgh
Or if you want to send an email, send to This e-mail address is being protected from spambots. You need JavaScript enabled to view it

**** I must admit, even after all these years, I still really enjoy going to Friday night games. It's one of the best parts of this job.

**** I'm looking far ahead on this one, but all four WPIAL championship games will be at Heinz Field on Friday, Nov. 23. Pitt plays Rutgers at Heinz Field the next day.
The past few years, Heinz Field workers have ripped up the old grass right after the WPIAL championships and put down new sod. I'm not sure of this, but I don't see how they could rip up the old stuff and put down sod for the Pitt game the next day. It makes you wonder what that field might be like for the Pitt game? Here's to hoping the weather is decent.

**** FYI: Clairton will be missing a few starters for the first few games of the season, due to academic and attendance issues.

**** Check this out: Former NFL star Deion Sanders is a co-founder of a new charter school in Dallas. The name? Prime Prep.
From all reports, it seems the school is trying to become a football and basketball power and Sanders announced a few weeks ago that he and two former Dallas Cowboys â€" George Hegamin and Kevin Mathis â€" would coach the football team.
But the athletic programs are in a mess. The team couldn't start football season because it did not have enough eligible players. Then the executive committee that governs athletics in the district where Prime Prep would play recently voted to exclude Prime Prep from district play in all sports.
Prime Prep also hired Ray Forsett as boys basketball coach. Forsett had a nationally-recognized program at Grace Preparatory Academy in Arlington, Texas and some of his players were going to follow him to Prime Prep.
How many people do you think are rooting against this Deion project?
Subscribe to this comment's feed